Summary
The third platform has been approved and will now be ordered.
The second platform will be delivered in the second half of fiscal year 2021. First oil will be at the beginning of 2022.
Production breakeven is exceptionally low.
Finances are more than adequate to meet cash needs.
This company will nearly double its production by 2025.
This idea was discussed in more depth with members of my private investing community, Oil & Gas Value Research. Get started today »
Hess Corporation (HES) is doing exactly what the management textbooks all state to do in a cyclical business. The company is expanding production at a time of weak service pricing and a lot of extra capacity for materials. This should ensure the company has low costs for some time to come. The source of this low cost expansion is the partnership with Exxon Mobil (XOM) in Guyana.
Already the partnership has one platform in place producing oil to sell. The company has reported some mechanical problems with the startup. Therefore, the company's share of production at 19,000 BOD was slightly less than half the expected production potential of the platform. The first platform usually has the greatest learning curve.
In fact, the partnership may have deliberately built this platform for the service capability of 120,000 BOD to take the time to learn exactly what it takes to begin production off the coast of Guyana. The second platform (which should be delivered later next year) will have twice the production capability of the first platform. Management will also be expecting many of the startup issues that are now delaying production from reaching full potential. Therefore, the next startup will not only involve more production, but it should also happen in less time.
Guyana Production Cost
The attractiveness of the Guyana production is the low cost of this major discovery.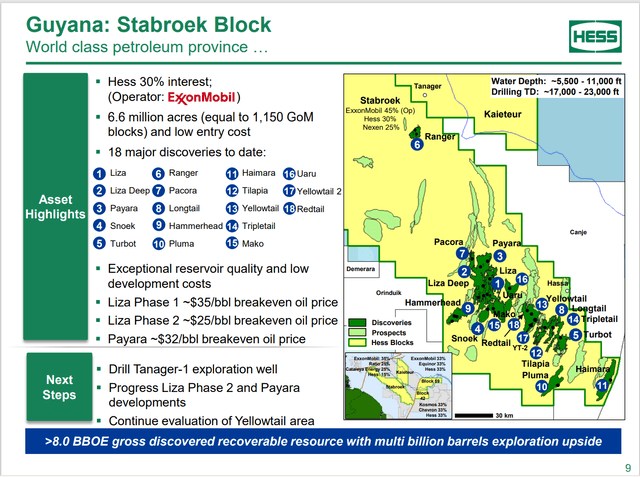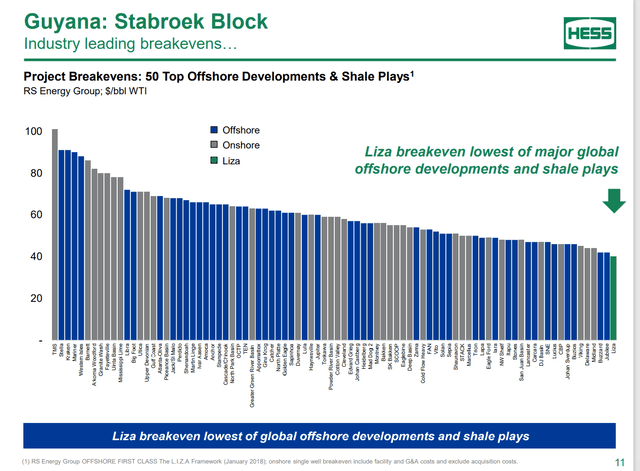 Source: Hess Corporation Investor Presentation October 2020.
It is hard to overemphasize the effect of drilling wells when drilling rates are low and salaries are not going through the roof during an industry boom time. There is also a fair amount of capacity available to build these platforms because few projects can proceed under current industry conditions. Therefore, the prices to be paid to begin production are currently rock bottom. This field should also be a relatively long lived field. These low costs will remain a competitive advantage for much of the life of the field.