$16m Investment for Data Science Platform Pachyderm
August 21 2020
San Francisco-based data science machine learning platform Pachyderm has raised $16m in a Series B round of funding led by Microsoft's M12 venture arm, which it will use to roll out its fully-managed service solution, and to accelerate hiring.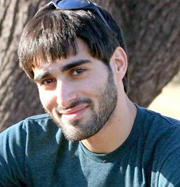 Pachyderm offers access to an enterprise-grade, open source data science platform, which brings together version control for data – storing all of a team's files in repositories and organizing their different versions. The platform also provides tools to build scalable machine learning and artificial intelligence pipelines, to help software engineers manage data used in AI projects.
New funding has been led by M12, with participation from Decibel Ventures (an independent venture firm backed by Cisco), and returning investors including Benchmark and YCombinator. Joey Zwicker (pictured), co-founder of Pachyderm, comments: 'M12 and Decibel will prove essential to our expansion. With their experience supporting the growth of B2B start-ups and their direct access to Microsoft's and Cisco's strength, expansive enterprise network and diversity of investments, we see them as essential partners for our next stage of growth'.
Web site: www.pachyderm.com .