Survey Expert Joins NORC at University of Chicago
December 4 2019
Survey methodology specialist and former AAPOR President David Dutwin has joined NORC at the University of Chicago as Senior Vice President of Strategic Initiatives, and Chief Scientist of NORC's AmeriSpeak panel-based research platform.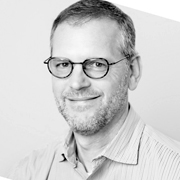 NORC (National Opinion Research Centre) at the University of Chicago is a non-partisan research institution that delivers data and analysis to guide programmatic, business, and policy decisions. Launched by NORC in 2015, AmeriSpeak is a US multi-client household panel which combines panel surveys with representativeness of the US population, and the NORC Card sample quality report card. Through AmeriSpeak, researchers can access a representative, probability-based sample of pre-recruited participants who have agreed to take part in regular online and telephone surveys on a wide variety of topics.
Dutwin (pictured) joins after more than seventeen years at survey and market research firm SSRS, where he latterly served as EVP and Chief Methodologist, during which time, he was also Adjunct Professor for Communications Studies at West Chester University of Pennsylvania. He began his career at Mathematica Policy Research as a Survey Specialist, and is also the former President of the American Association for Public Opinion Research (AAPOR).
In his new role, Dutwin joins NORC's senior leadership team, and will work across the entire organization to contribute to thought leadership, methodological innovation, business development, and project execution. Dan Gaylin, NORC's President and CEO, comments: 'David's background in survey research and strategic corporate development makes him a natural fit as we continue to push the boundaries of our work for our clients and give them the data, analysis, and evaluations they need to address the major issues of society.'
Web site: www.norc.org .