NEW DELHI: More than 5 years after the launch of the Swachh Bharat Mission in 2014, sanitation indicators under the programme point to sustained improvement in cleanliness across the country. But the findings of the
Swachh Survekshan Grameen 2019
survey undertaken by Jal Shakti ministry shows wide gaps between the top performing states and districts and those that are lagging at the bottom.
Thus, the top-25 districts for Swachhata are all in four states while the difference in scores of the top and bottom-most district is close to 60 points, suggesting that more attention has to be paid to ensure all states are on the same page on achieving Swachh goals. A look at the key findings
Haryana, overall at No.2 in the survey, had as many as 9 districts in the top 25 and five in the top 10. It was followed by
Tamil Nadu
, the No.1 state, with 8 districts in the top 25.
Odisha
, which brings up the rear in the state rankings, had 12 of the bottom-25 districts in terms of the Swachh survey scores.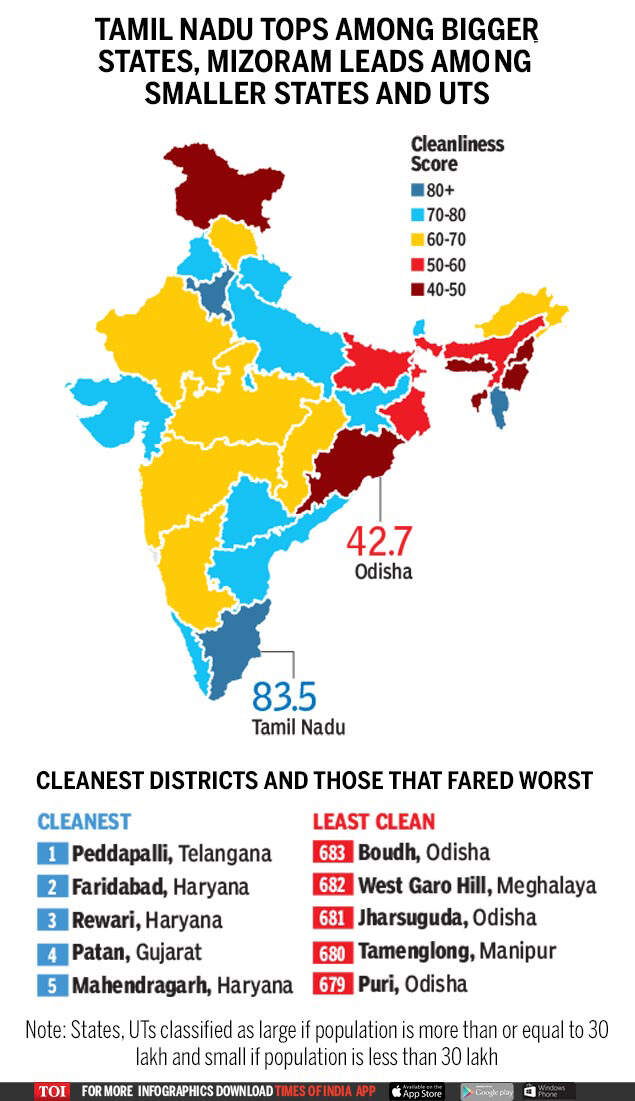 The survey was carried out in as many as 17,209 villages and 683 districts. Three components made up framework of ranking: citizen feedback, direct observation and service level progress.
MARKET AREAS, RELIGIOUS PLACES LAGGING ON PUBLIC TOILETS
A whopping 72.5% of public places covered under the direct observation part of the survey were found to have access to toilets. But the proportion was awfully short for marketplaces and religious sites.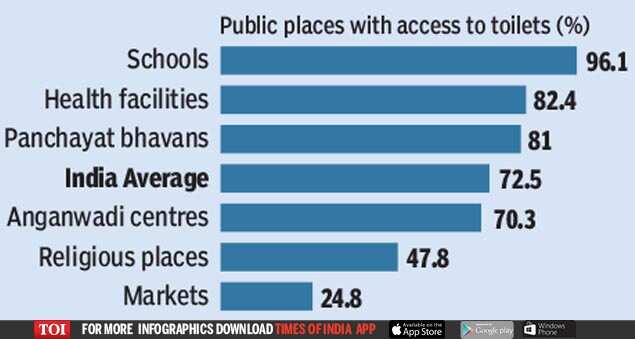 PEOPLE'S PERCEPTION IMPROVING ON WASTE DISPOSAL
Among those surveyed, 84% said their village had adequate solid waste management facilities (83% for liquid waste management). In last year's survey, only 66% of participants had said that was the case.
A QUARTER OF VILLAGES WITHOUT TRAINERS FOR CAPACITY BUILDING
Availability of field trainers for capacity building of panchayats and swachhagrahis was found in 77% of districts. And 63% of districts reported the construction of community toilets in SC/ST localities.