Understanding and leveraging consumer behavior is a major advantage for any business. Due to the digital revolution, consumers are flush with choice and conditioned to expect immediate service and seamless interactions.
Companies looking to be successful in this competitive environment need to keep up with market trends and offer customers the services and products they desire. Also important is using digital channels effectively to both attract and retain customers, thereby promoting customer loyalty.
To understand the importance of customer loyalty and digital services, PaymentsJournal sat down with Peter Reville, director of Primary Research Services at Mercator Advisory Group. During the conversation, Reville offered insights gleaned from Mercator's Buyer Insights Interview series, an annual survey of a nationally representative sample of 3,000 individuals across the country.
Since the survey is conducted each year, it offers a stable insight into current consumer habits.
Today's loyalty landscape
Reville noted that loyalty programs exist in nearly all merchant verticals, and customers are eager to sign up. This is consistent with findings from the Wirecard 2019 Consumer Incentives Report, which found that most customers are influenced by rewards, rebates, and loyalty programs.
In fact, nearly 18% of respondents said rewards or rebates "always" swayed them to buy from one brand over another. That was true even when they were loyal to the brand without the reward.
Reville explained that while supermarkets are leaders in the loyalty program space, other retailers are catching up, from electronics companies to sporting goods stores.
Another important trend reflected in the Mercator data is that consumers are likely to belong to numerous loyalty programs at once. Roughly one-quarter of consumers are members of loyalty programs in 12 to 21 different merchant verticals.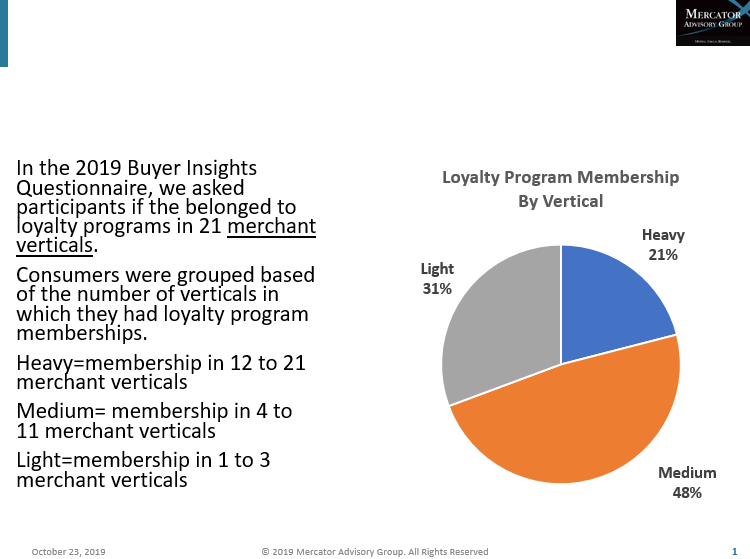 Loyalty program membership impacts spending and store visitation
The reason so many merchants turn to loyalty programs is because they, on average, positively impact consumer spending and visitation habits.
According to Mercator's data, between 50 and 60% of people report that their membership in a loyalty program increased store visitation, depending on the merchant vertical.
This shows that just by starting a loyalty program, a merchant can boost store visitation by as much as 60%, according to Reville. Crucially, this often translates into increased sales.
He noted that this is because spending and visitation are highly correlated, meaning that as store visitation goes up, spending tends to increase, as well.
For example, when consumers go to an apparel store, 58% of those who have a loyalty membership are say they spend more. Mercator's data also reveals that at top department stores, 54% of consumers engaged in a loyalty program reported spending more.
It is important to note, however, that these are vertical averages. Take the apparel store data as an example. That 58% of consumers report spending more at an apparel store does not guarantee that every apparel store will see an uptick in sales after rolling out a loyalty program.
"It boils down to the kind of value that a specific retail establishment is providing to its members," said Reville. Value could come by way of brand-consistent incentives programs that use digital payment technology to offer customers a more seamless experience. Digital payments could increase consumer engagement and even drive spend-back to the issuing merchant.
The design of the loyalty program could also be a source of value for customers. Offering members cash back based on spending, for example, rewards customers for loyalty and encourages further engagement.
Other methods include offering exclusive deals, member only events, or corporate swag. All these serve the purpose of providing additional value to customers while making them feel appreciated.
How are consumers shopping for new items?
To answer this question, Reville began by drawing a distinction between shopping and buying. There are some people who greatly enjoy the act of shopping: visiting stores, browsing items, and researching products online. Ensuring these customers have a fun, hassle-free experience keeps them coming back.
"What is important is that nearly half the people say that this year they are researching more on the web, either through their phone or their computer to look for things to purchase," said Reville. This is not to say that 50% of consumers use the internet to research items; rather, it means that half of people report doing it more often.
"This shows the web is becoming ever more the primary research tool," said Reville.
In fact, many consumers see the internet as a way to compliment the brick-and-mortar store experience. About half of consumers say that using mobile devices enhances their in-store experience, according to data from Wirecard.
Companies should be aware of this trend and make sure their web presence is adequately addressing customer needs.
What companies should know about the use of virtual cards
The use of virtual cards is growing, said Reville. Specifically, many people are now using virtual cards to pay for online products, such as music or online gaming.
The Wirecard 2019 Consumer Incentives Report revealed that 45% of consumers prefer digital prepaid cards to other kinds of incentives. That category included virtual cards. Benefits of these open-loop cards include the ability to spend them anywhere – much like cash. That adds greater perceived value to the reward, and merchants can incorporate branding into the virtual card experience to drive customer engagement and spend-back.
Now, email is a common method to deliver a virtual card, but Reville believes this will change. In the future, people will use apps to access the cards.
For example, consumers that use Apple Pay can load and spend prepaid cards within their Apple Wallet. And as these virtual wallets catch on, Reville expects virtual cards to migrate over. Mobile apps offer opportunities for merchants to build interactive loyalty programs, contributing to an even better customer experience.
Conclusion
These data show that consumers who are members of loyalty programs will visit stores more often and spend more while there. With the digital revolution well underway, companies need to leverage their digital offerings and consumer insights to stay competitive. That means understanding what customers want from the loyalty experience, in order to design digital incentives programs that keep them coming back.
Summary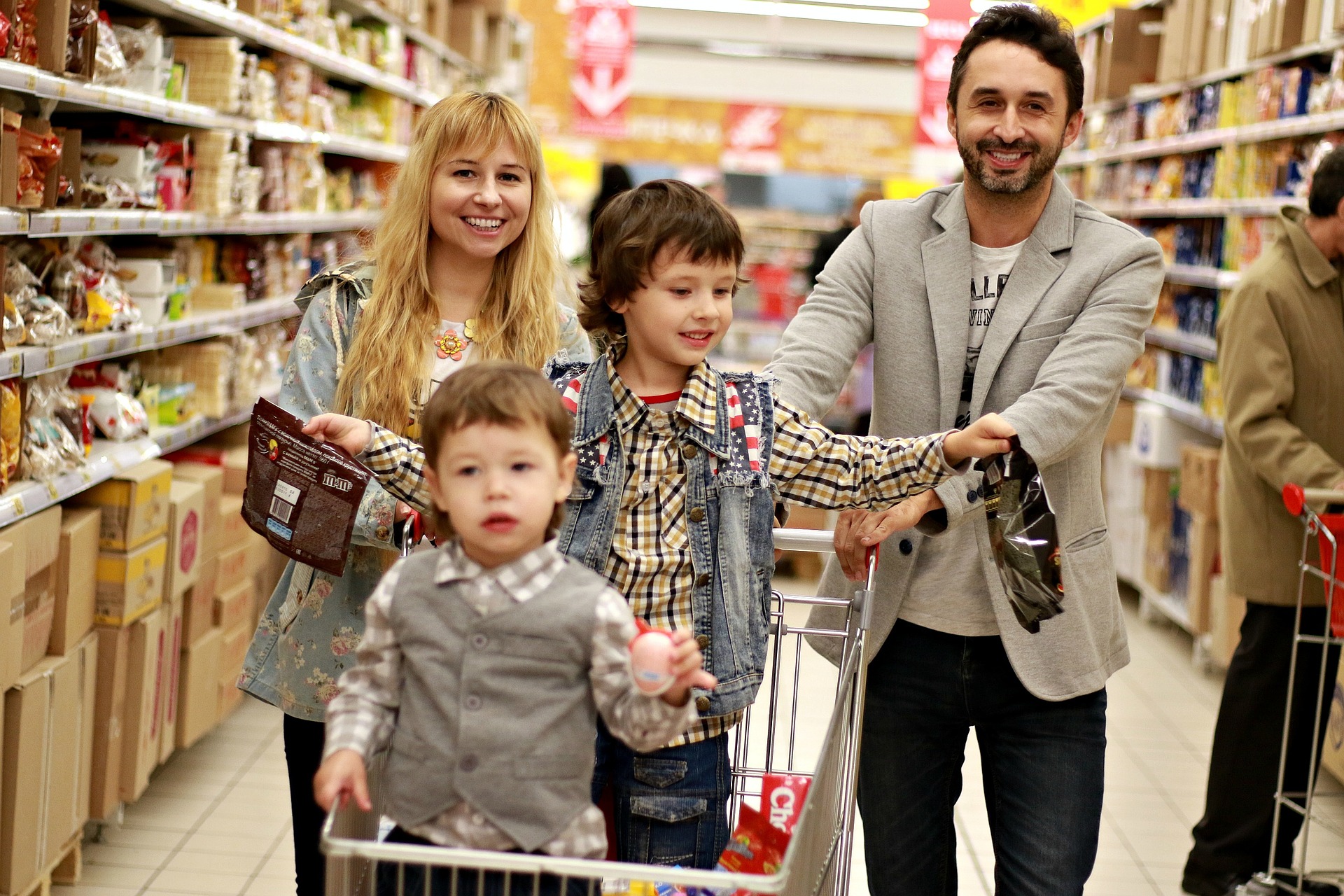 Article Name
Quantifying the Impact of Loyalty Programs on Consumer Behavior
Description
Companies looking to be successful in this competitive environment need to keep up with market trends and offer customers the services and products they desire. Also important is using digital channels effectively to both attract and retain customers, thereby promoting customer loyalty.
Author

PaymentsJournal
Publisher Name

PaymentsJournal
Publisher Logo